About Sardinia
Many times our friends on our Facebook page, and subscribers to our newsletter, have shared their experiences of Italy with us.
This story, about Sardinia, was shared by Lexa Dudley, acclaimed author of The Whispering Wind and  Children of the Mists – two romantic novels set on the island of Sardinia.
I've always loved Sardinia and I have a fair bit about the wonderful beaches (the best in Europe) and the people of Sardinia elsewhere on the site. Lexa though has managed to capture the soul of Sardinia and, after reading her tale, you'll see why this island has enchanted poets, writers and ordinary visitors for centuries.
Lexa's Story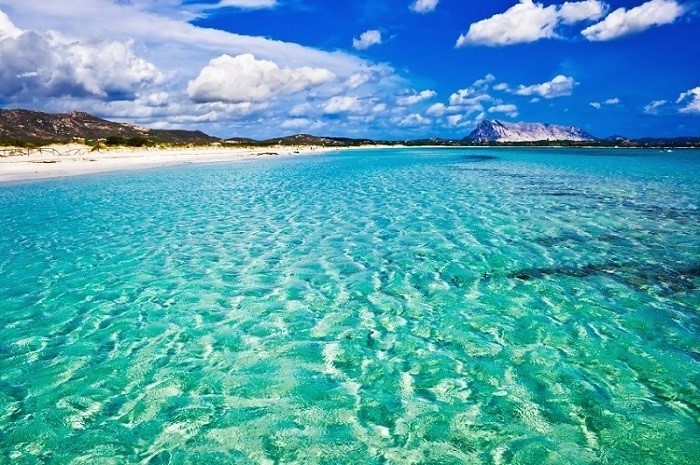 Why do you always go back to Sardinia? And where about is is exactly?
Sardinia has been described as The Forgotten Isle and, it is still relatively unknown today.  I go back to Sardinia every year because I fell in love with the island in 1972, when visiting with my family.
In those early years we had started up our own business, had four sons and holidays were a distant dream with hungry mouths to feed.  My father died and we came into a little money and decided that a holiday was the one thing, above all, that was needed for the family.
I asked a friend, who was a travel Agent, to organise something.  The wish list wasn't too long.  We wanted an island holiday in the Mediterranean, a great beach, preferably Corsica, as I spoke French.  Everywhere proved to be full so we were booked into a new hotel in Pula at the south of Sardinia.  Needless to say we had to look it up on the map and prepared for the new adventure.  The rest, as they say, is history.
The moment I stepped off the plane at the old Airport at Elmas, which was no more than a large nissen hut, with departures and arrivals all in the same area, I was hooked.   Above the smell of the engine fuel was the scent of the macchia indigenous vegetation, strong in the afternoon heat.  In that moment Sardinia stole my heart.
Sardinia is a gentle, but persuasive lover; seducing you with long white beaches on the western coast and, small, secret coves on the eastern side; all washed by an emerald and sapphire sea. The mountains are majestic and the valleys enchanting. With vast areas of macchia, untouched except by the soft warm caress of the breeze which constantly passes over the island.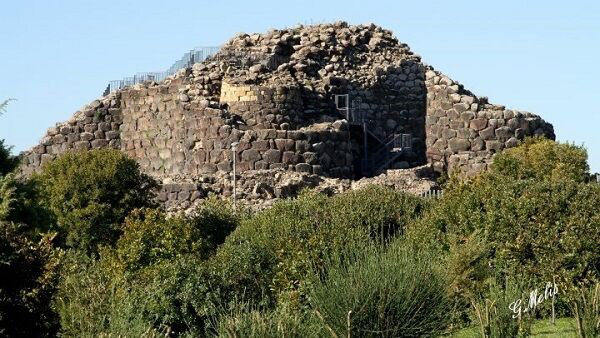 Su Nuraxi – a UNESCO World Heritage Site
There are stories of Giants, with their tombs and, faires. 
You become captured by the customs and traditions which have been nurchered since the Nuraghic people.  The ancient people haunt you with their Nuraghi, standing stones and sacred wells.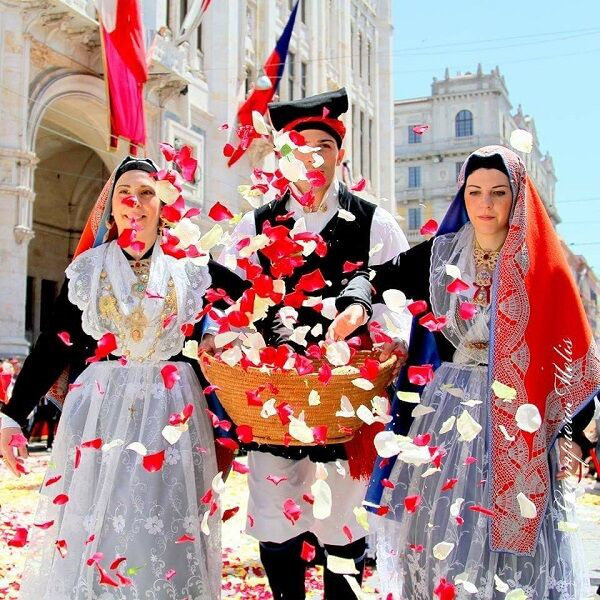 Sardinian Festival Sant' Efisio
The Sards
Then there are the Sards themselves; I find them courageous, curious, loyal and extremely hospitable.  It is little wonder that so many people fall in love with Sardinia.
The love I felt for the island that first day has grown over the years, as I have learned more about its people and their culture and it has become the home of my soul.
As a family we still talk about the BBQ we organised on the beach with another couple we met at the hotel.  Being May the weather wasn't too predictable and it rained that evening.  One of the Sards, who had organised everything, came to find us and said he had arranged to have the meal up in the mountains behind the hotel, in a hunting lodge which belonged to the provider of the pig and his friends.
It was an extraordinary evening.  The men had cooked the suckling pig and provided the salad, wine and bread.
The conversation went from Sardu at one end of the table into French and then into English at the other end of the table.  Fortunately, the girl from the hotel also spoke French so we managed to keep the conversation bouncing back and forth.  Until around 2 a.m. in the morning we made our way back to the hotel.
Over the years I have got to know the Sards and their customs and how different they are from the Italians, whom they call the continentals. Being an island race we have much in common, except the ancient Sards were farmers, not fisherman and were the keepers of their languages and traditions.
Their hospitality and patience is second to none as I have found with my endless questions about their island and their customs when researching for my books.
Some of the Sards we met that first year, have taken us all over the island to see the ancient sites and monuments and seen things that only the locals know.  We get taken to the local restaurants and experience the most amazing food and new friendships.
One of the Sards we met lives in San Sperate with his family and we would go and visit them and friends plus the numerous cousins and relatives they all seem to have – our families have grown up together.
It was at this time we met Pinucio Sciola, a young sculptor starting on his career.  He had carved two large stones that stood on a ridge marking the start of the Campidano, the great plain in the centre of Sardinia, and later he carved the Madonna that is under the sea at Villasimius.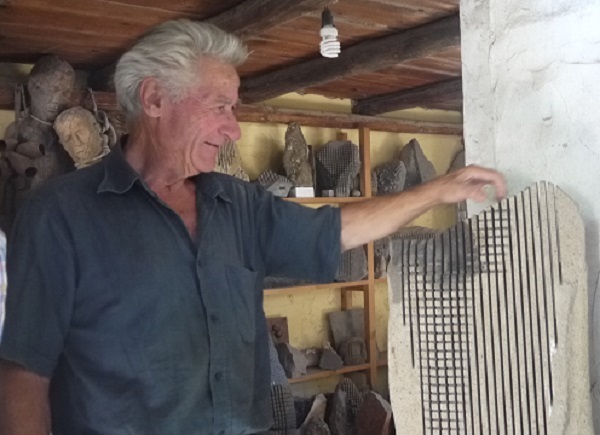 Sculptor Pinucio Sciola with carved men behind him!
He became famous for his Singing Stones.  He noticed when he was sculpting that each stone had a different sound or resonance. He would carve wonderful patterns on the huge rocks and with a stone or his hands, running over the stones produced the individual sound of each one.
It was always funny to see visitors looking for the wires or microphones whenever he rubbed his hands over the stone to make it sing.
My sons always remember him for having a carved man made of olive wood, hanging in his tree in his old garden, looking to all the world like a corpse.
We have spent some wonderful hours in his garden at San Sperate where a lot of his work can be seen and heard and is well worth a visit.
San Sperate as a town gave me a presentation for my book The Whispering Wind last October.  Pinuccio was there to introduce me to everyone and to tell of our longstanding friendship.
Later that evening, he and a friend went back to his house and out into his garden.
It was a dark night and a quarter moon lay on her back in the black sky and from where I was standing it looked as if it was resting on one of the tall carvings.
Pinuccio took us to a ring of large stones and lit the huge pile of wood in the centre.  The flames shot up as he stood and fanned them with a large olive branch.
Smoke curled up on one side making the stones look like a volcano.  They became silhouetted against the bright flames and through the cuts he had made in the stones it was possible to see the flickering light.  We walked around the circle, each stone taking on a different shape as we passed it.  The light also caught Pinuccio as he stood by the fire.  Time slipped away.  We could have been in another time an ancient place full of magic and mystery.
After the fire died down we went to see the statues that had been lit by electric light.  It became a wonderland of light and dark shapes. There was one that looked like the universe with the way the carved stone caught the light and twinkled in the evening breeze.
It is a sight that will live with me forever and we all promised ourselves we would do it again, but it will not be as Pinuccio unexpectedly died in May this year, and is sadly missed.
Cagliari and Festivals
Once a year I try to go down to Sardinia on my own to go around the museums, the art galleries, find antique shops and generally go native.  I usually stay in the old part of Cagliari called Casteddu.  I love the narrow cool streets.  People are friendly and welcoming.
I still don't speak Italian well, but I love to talk to the old people who remember Cagliari back in the 70s when there was no electricity in the houses and they shared a communal taps in the streets.  The bomb sites have gone and there is a peace and tranquility that hangs over this part of the city.  Even more so now, as most of the caged birds they used to have twittering outside their windows have gone but I miss their constant chirruping.  You still have to look upwards to make sure no one is hanging out their dripping washing on the lines across the buildings.
The port, which was a working harbour with sun burnished fishermen sitting on the quay mending their nets or selling fish from the morning catch, has now given way to a smart new marina with beautiful walkways and across the road the Via Roma with its arcade of shops full of exciting merchandise or cafes to sit and watch the world go by at the leisurely pace so reminiscent of Sardinia.  There are restaurants to find with excellent food and wine and an over whelming atmosphere of friendliness.
I love all the museums and recently discovered the Luigi Piloni museum in Via Universita.  I was lucky enough to spend a fantastic morning being taken around by a man who is a fellow collector of maps, books and prints of Sardinia and we had fun comparing what we had, with the wonderful pieces in the collection.
For the travellers who are happy to leave the beach there are some amazing sites.
Barumini, an ancient building called a nuraghe, unique to Sardinia and now a world heritage site. And nearby Casa Zapata, an old house built on top of a nuraghi and now a museum.  It is set in the Mamallia plain watched over by Las Plassas and the giara, where native horses roam.
The Sards have many festivals which are still for themselves, although visitors are welcome. You could probably find one for every day of the year, but the main ones are:
Sa Sartiglia in Oristano  –  Last Sunday and Tuesday before Lent
Sagra di Sant'Efisio Cagliari May 1 – 4th Sardinia's largest festival
Cavalcarta Sarda Sassari Ascension Day
Ardia Festival of Sant'Antine Sedilo 5 – 7th July Horse race
Festa del Redentore Nuoro 29th August
Local traditional costumes are worn by young and old and some of the festivals go back to the middle ages.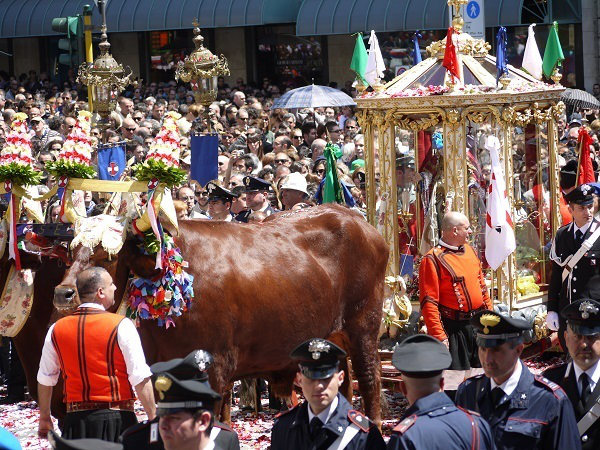 'And if you are still wondering where Sardinia is, it is below Corsica and above Sicily in the Mediterranean.'
Home › Italian Stories & Albums › About Sardinia – See more at: http://www.miomyitaly.com/about-sardinia.html#sthash.q0njfIp8.dpuf
 radio interview
https://www.youtube.com/watch?v=TKCGP4lK_sk&feature=youtu.be
oggi raccontiamo la storia di Lexa Dudley, scrittrice inglese follemente innamorata di Cagliari dal 1972.

http://www.

wearecagliari.it/pages/news

 
Lexa Dudley, scrittrice inglese follemente innamorata di Cagliari e della Sardegna dal 1972
Cagliari, una città in grado di emozionare e sconvolgere positivamente la vita degli stranieri. E' questo quanto è successo a Lexa Dudley, di nazionalità inglese, ed innamorata a prima vista della Sardegna e del suo capoluogo.
"La prima volta che sono arrivata in Sardegna era il 1972", racconta Lexa, che vive nel Suffolk, regione sudorientale del Regno Unito. "Ho trascorso la mia vita a lavorare insieme a mio marito, col quale condivido quattro figli, otto nipoti, tre cani, due ex cavalli da corsa e sette oche. Ora siamo in pensione e mi godo la vita dedicandomi alla famiglia e alla scrittura".Un viaggio, quello del 1972, quasi forzato. "Mio marito aveva dei piccoli problemi di salute e gli era stato consigliato di stare totalmente a riposo per qualche tempo. Avevo organizzato una vacanza in Corsica, ma l'agenzia di viaggio ci comunicò che non c'era un posto libero, per cui ci avevano prenotato in alternativa un albergo nel sud Sardegna, a Santa Margherita di Pula".
Lexa ricorda sempre il calore dell'ospitalità sarda come qualcosa difficile da dimenticare. "Dal momento in cui sono giunta nell'isola ho sentito come se mi appartenesse profondamente. Amo la pazienza con cui i sardi ti raccontano le loro origini e le loro tradizioni. Ogni volta che torno a Cagliari per me è come tornare nella casa della mia anima".Del capoluogo Lexa ama i suoi musei e le sue gallerie d'arte. La cattedrale e le chiese locali. "Mi piace trascorrere del tempo nei bar per un caffè o un pasto veloce. Le strette vie di Castello e la cordialità dei cagliaritani ti restano nel cuore. E che dire di quel profumo di mare che dal porto avvolge Stampace?".
E' straordinario come una donna, una turista come tante, sia rimasta folgorata dalla nostra città in modo inesorabile. Una passione, quella per la nostra isola e la nostra cultura, che ha portato Lexa Dudley a raggiungere importanti traguardi letterari."La scrittura è sempre stata parte della mia vita. Una volta rientrati nel Suffolk dopo il primo viaggio in Sardegna, capii subito che avrei voluto scrivere un libro sull'isola, in modo da trasmettere un po' del mio amore agli altri. Ho scrittoWhispering Wind e l'ho inviato per anni a tantissimi editori, nessuno dei quali ha accettato il mio libro".
Grazie al supporto di suo marito, Lexa decide di pubblicare autonomamente Whispering Wind, una storia totalmente ambientata in Sardegna.
"Ho avuto la fortuna di ricevere tre premi in America. Di recente il libro è stato anche tradotto in italiano come Sussurri nel Vento. Il mio nuovo libro si chiama, invece, Children Of The Mists. E' ancora una volta ambientato in Sardegna, ma nella zona di Ozieri nel 1855. Si tratta di una storia di due famiglie. Una storia di onore, di vendetta e, naturalmente, d'amore. Uscirà alla fine di maggio e verrà tradotto in italiano prima di Natale", racconta emozionata l'autrice.C'è tanta poesia nei racconti e nei ricordi sardi di Lexa Dudley. Immagini, volti, emozioni che restano indelebili nella sua memoria.
"Mi piacerebbe molto poter vivere a Cagliari, magari nella zona di Castello o alla Marina. In Inghilterra viviamo in campagna, ma Cagliari è una città così straordinaria che ogni volta che ci torno non mi sento mai sola. I miei amici mi avvisano sempre quando vedono alla tv un programma sulla Sardegna. Ho avuto l'onore nella mia vita di conoscere e diventare amica di Pinuccio Sciola, un uomo incredibilmente intelligente. Un vero artista".Lexa Dudley è una donna che ha fatto della Sardegna una parte fondamentale della propria vita. "Soffro del noto "mal di Sardegna" ed è per questo motivo che ogni anno torno da voi, prima verso aprile-maggio, poi di nuovo a giugno e, infine, un'ultima volta nel mese di settembre".
L'amore per Cagliari da parte dell'autrice si racchiude bene in alcuni passi di un suo bellissimo scritto che vi proponiamo di seguito, nella sua versione tradotta in italiano.CASTEDDU CAGLIARI"Fortezza senza tempo, cinta da medievali mura,
sotto la quale si estende la sua villanova pigra;
qui, dove si fondono in un'unica memoria presente e passato
sotto l'aurea luminosa di un sole dorato,
bambini dalla pelle color nocciola trascorrono ore spensierate
tra strade strette, in mezzo ad antiche torri pisane.

Strade buie e fresche, da fasci di luce illuminate
aperte su calde piazze a scacchiera di bianco e nero sfumate.
Dalle finestre, velate d'ombra, si incontrano occhi che ti scrutano
come figure intraviste solo a metà che il proprio profilo formano.
Qui attraverso porte completamente adombrate, quasi nascosti,
si rivelano fugacemente all'occhio cortili di fiori ricolmi." (…)
Review #162: The Whispering Wind: Two Lives, One Heartbreaking Story by Lexa Dudley
My rating: 5 of 5 stars
"Love never dies a natural death. It dies because we don't know how to replenish its source. It dies of blindness and errors and betrayals. It dies of illness and wounds; it dies of weariness, of witherings, of tarnishings." 
—-Anaïs Nin, a French-born novelist, passionate eroticist and short story writer
Lexa Dudley, an English author, penned her debut book, The Whispering Wind: Two Lives, One Heartbreaking Story , that revolves around a small Italian island, Sardinia.
The Whispering Wind is a moving story of two lovers, set on the beautiful island of Sardinia, where Elise goes on holiday to escape a loveless and violent marriage. Whilst there, she meets and falls in love with Beppe, a local Sard. Despite religious and cultural complications, they embark on a romantic and passionate affair. Beppe shows Elise his island and introduces her to the welcoming culture of the Sardinians and Elise soon falls under the spell of both the island and its people. But after weeks of blissful happiness, Elise has to return unexpectedly to England to face all the problems she had been so desperate to leave behind.
The Whispering Wind is that kind of book which will bring out the deepest pain from our soul and will manage to transform that pain into something beautiful and memorable. Since that is how I felt when I read the book.
Elise, a young and married English woman, take a trip all by herself to an Italian island, Sardinia. To get away from her abusive husband, William, Elise decides to take a break from her marital issues before going for a divorce. But her stay at Sardinia turns out to be something enchanting and fateful for her. Not only Elise was struck by the beauty of this small and lonely island, but also fell in love with the warmth of the local people of Sardinia called, Sards. Little did she knew that her trip to Sardinia would turn out to be lucky for her, as she fell head-over-heels-in-love with a local Sard, Beppe. Their love was not something filled with lust and passion, but their love was something pure and deep with intensity. But Sard people are quite traditional and since it was 1969, modern values like getting married to a divorced woman was still not acceptable in the society. Their love story comes to a halt when Elise had to return back to England due to her mother's illness, but will she come back? Will they find each other in their arms?
The author have spun a heart-touching and deeply moving love-story. The author's portrayal of this island, Sardinia makes me feel like she loves this island like her own home. With her eloquent words, I too can feel the warmth of the Sards like Maria, and the rest. The picture of Sardinia that she painted with her words is vivid, lively and very visual. I was not only transported to the picturesque island, but I could sniff the salty breeze and the sweetness of the wine on my tongue. I could even hear the birds singing and the waves crashing by the shore. And as Beppe and Elise's love story evolved, Sardinia bloomed like a flower.
The author did a great job on crafting the characters with depth and compassion. And their warm demeanor will make you feel like as if you are home. Elise, the main character, is strong willed woman, who fought a lot in her life, yet she stood still. Their narrative is striking and captivating. The prose is articulate and evocative with a rather fast pace. And the plot unraveled like something you need to devour for a longer time, rather than reading it in a haste, since the plot is constantly evolving and the beauty of Sardinia along with Elise's pain and sorrow keeps us engaged to the sore of the story. The chemistry between Beppe and Elise is not lusty yet it's very enriching. The emotions are strongly depicted with intricacy. The first part of the book is enchanting yet poignant, and in the second part, there is a mystery to unlock, although, we know the real culprit who caused the pain between Elise and Beppe, but the way the author unraveled it, made us gripped to the story. And surely, the second half brought a lot of tears to my eyes. I started hating the author for turning her story into something irrevocably painful.
All in all, Sardinia's beauty will bewitch you and the book will make you itch to take a trip to this elegant island, Sardinia.
Verdict: This book proves why pain demands to be felt and if you want to experience a unique combination of beauty and pain, then do read this compelling love story.
Courtesy: Thanks to the author, Lexa Dudley, for giving me an opportunity to read and review her book. 
——————————————————————————————————————————–
Author Info:
Wife, mother, grand mother and writer. A lover of good food and wonderful company, dear friends and a Passionate lover of the island of Sardinia and its people.
This year 'The Whispering Wind' was fortunate to win Gold finalist medal for ROMANCE in The Next Generation Indie Book Awards 2014 and finalist for ROMANCE and LITERARY FICTION at The National Excellence Indie Book Awards 2014. 
Interview with La donna Sarda with many thanks for a great chat.
LEXA DUDLEY, THE ENGLISH WRITER WHO WANTS TO BE SARDINIAN WOMAN
Lexa Dudley is an energetic lady of 74 years. He lives in a small town near Cambridge, writes novels and is madly in love with Sardinia. He landed on the Island the first time over forty years ago, by accident, but it was soon conquered. Her husband needed a vacation, had necessarily to take a break, the doctor had said.The family wanted a warm place, a Mediterranean island, and since Lexa spoke French first hypothesis was Corsica. The tour operator, however, advised them an alternative: Pula, South Sardinia. He had to indicate it on the map, because neither Lexa nor her husband had ever heard of that land. " It was 1972, when the airport of Elmas was little more than a hangar , "he says.
Many years have passed since a nice English girl was walking in the center of Cagliari with his four children blond, who all wanted to touch hair. Lexa says that Sardinia has become the home of his soul, which is back at least once a year over the past 42 years.
Inspired Island, two years ago, he published a novel The Whispering Wind set precisely in Sardinia. The title is a tribute to the wind blowing relentlessly: " You do not realize it – he says – but when you visit for the first time, it seems that the island is in constant motion. The wind whispers Sardinian, constantly . "
The idea of writing the book was born in Sardinia?
I've always loved to write, when I was young I kept a diary. But I thought I'd actually do it when I got back from the first Sardinian stay.It was a job very long: my children were growing up and do not always have time to write. Eventually I sent the book to several publishers, without success. I dismissed the idea of publishing it and then one day my husband said to me: " Why do not you take it in your hand? ". I did as advised me to do and seeing him I understood why he had received so many not. So I rewrote it. I found a publisher willing to publish it, as long as the final was different. I could not accept it, would not have been the same thing for me. So I rolled up my sleeves and I published on my own and I'm happy to say that the book has won three awards in America.
The book tells a story of love. How much truth is there in the pages of his novel?
I can say that it is a story based on my life, but set in Sardinia.
What did you find so special when she came here for the first time?
In the early seventies the people did not travel much and Sardinia was still a kind of virgin land. From England he went to Spain or New York, no one went to Sardinia. The thing that struck me was the sweetness of the Sardinians. The people were friendly and proved to have time and care for others. I did not speak at all the Italian and if I needed something everyone used it to help me. I remember going into a shop for something appears and a man said to me, "Wait, wait . " He went into the house next door, he found a man who spoke English, took it into the shop for me so that I could tell him what I needed. And that I still find it in Sardinia: people always have a bit 'of time for you.
According to her it could happen again today?
Well it's not quite the same thing, but I can tell you that when I was last October at the Museum of Louis Pilloni, I spoke with a gentleman to make an appointment to see the exhibition. He told me that everything was closed during the winter: he asked me where I came from and why I was interested in the museum, and I replied that I had many prints and many maps of Sardinia and discovered that he too collected some. That said, locked the office and took me on a private tour of the museum.Here such a thing would never have happened, and I was extremely grateful to the gentleman for giving devoted his time and his interest.Unfortunately I lost the piece of paper on which I had pinned his name was Mr. Alessandro R … It was really good to me, so I can say: yes, it still can happen.
How much has changed Sardinia, from '72 to now?
I think you have been very clever, because in these 40 years have built skyscrapers, you have kept the island as it was and I think this is beautiful. Have you kept your integrity: you Sardinian and proud of it. Sure, there was a development: when we came for the first time Pula was a small village and is now grown up, but you are not ruined, it is not stripped of its charm.You do not have the big buildings that have in Spain or anywhere else in the world. All the people who have been in Sardinia mentioned having loved, because it is unique. And you have kept this uniqueness.
She feels at home when in Sardinia?
Totally.
What likes to eat when it's here?
I love all the food traditional Sardinian. I can say that one of my favorite dishes are the maloreddus campidanese. And then of course I love the porceddu and carasau bread.
He never brought the bread carasau in England?
Yes, but we can also compare it here, in some store.
Carasau bread so it is an integral part of your diet?
Not every day but Saturday is the day of Sardinia. So we serve meat, cheese and bread carasau. It is a tradition of the Sabbath, our appointment with the island.
The whole family loves Sardinia?
Yes, all. My husband loves the food and especially the Sardinian wine.For Christmas I bought the macaroons, to give to my children.
Have you ever thought about how it would be to live here?
Every day, especially when I look out the window.Now it is cloudy, while in Sardinia there are 15 degrees and the sun shines. It would not be difficult for me to leave. But my husband is very English, and for him it would not be so easy. There is a saying that says that you should not live in the land of their dreams, and in part I believe it is so. However, if for some sad reason I had to find one, I would definitely live in Sardinia.
Shows us her rings – whiskers sardines – and her necklace, where among the pendants there are buttons typical Sardinian costumes and confides to wear them forever. "My house is covered with maps, books, prints, paintings Sardinians, in all the walls.It almost seems like the museum of Louis Pilloni ".
There is a part that prefers Sardinia?
I like Barumini but when we're on vacation in Villasimius, and I love it. The water is lovely, the beach is fantastic and the town is cute. Is growing, but still adorable.
Is there anything you do not like our land?
Yes: it is too far away to go and come back in the day. But other than that I can not say if there is something I do not like, because travelers see Sardinia through the glasses "corrupt", so I never got to see the ugly side of the island. Now I know that young people have no work, and I see also the problem of a generation that is being lost, but this is not a problem only Sardinian. As I said, there's nothing that I can say: "I do not like in Sardinia."
So she also likes the cheese with worms?
I tasted several years ago. Of people have told me: " You can not come in Sardinia and not having tried the cheese with worms . " So I tried it and I saw the worms jump on the table and do the races. I can not say that I love him, but I can say that I tried it.
We know that at the moment is studying the history and traditions of Sardinia for his next book, which will be set in the mid-nineteenth century to Sardinia. What the most intriguing part of the Sardinian traditions?
You have many traditions. What interests me most is the influence of superstitions, many of which have been forgotten today, on people's lives.
When do you think will come out the next book?
We are at the editing stage, I think it will take about a year.
How to be called?
 " The Children of the Mists "and tell the story of two families living near Pattada, in an imaginary country that I call Battada.
Is there anything you would like to say to our readers?
I think that the Sardinian women have changed, so much. When I came for the first time in Sardinia, in 1972, were mostly women who were at home. But now you are more "open" and it is easy to find in other places. Often when flight over Sardinia, I start talking to my neighbor's place and there is always someone who says to me, " Jobs in London but I'm coming home . " And as they talk I see the joy in their eyes at the thought of returning home. I think it's very very sad. I mean, why should you work somewhere else if you have the opportunity to live in paradise? I think that Sardinia should become independent, and I think we could do it easily. If Sardinia became a tax free zones life would be different. Likely to do so you only need to put a woman in the head: a new Eleanor. 
And then I would say that I was very honoured to have been contacted by the Women Sarde and I hope that one day I can be a Sardinian woman myself.
Interview with for Colour Magazine.  With many thanks to Tatiana.
Interview with Caterina Pinna for l'Unione Sarda  With Many thanks for an enjoyable morning.

Readers Favourite
24 Ocober 2013

http://readersfavorite.com/book-review/13376
Secret Sales
18 August 2013

Book Trailer
The Whispering Wind
BBC Suffolk
Radio Interview
Female First
24 May 2013
Read full review:
www.femalefirst.co.uk/books/the-whispering-wind-292527.html
The Whispering Wind
What can you tell us about your new book The Whispering Wind?
The Whispering Wind is a classic love story set in Sardinia where Elise goes on holiday to escape a loveless and violent marriage.
Whilst there she meets and falls in love with Beppe, a local Sard. Despite religious and cultural differences, they embark on a romantic and passionate affair.
Beppe shows Elise his island and introduces her to the welcoming culture of the Sardinians and Elise soon falls under the spell of both the island and its people.
But when fate steps in and takes a hand, Elise has to face all the problems she had been so desperate to leave behind.
What made you want to set the book in Sardinia?
I fell in love with Sardinia the first time we went there and I wanted the island to be like a third character in the book. To me, it will always be the Enchanted Island. However, their culture and deep religious conviction would make it difficult to accept a situation like Elise and Beppe's, especially in 1969, so it made me think what might happen to them.
You travelled to Sardinia in 1972; what can you tell us about your experience of visiting it?
It was not our first choice! We had decided to go to Corsica, as the family wanted to go to an island and I spoke French. The travel agent, a good friend, rang back and said Corsica was full so had booked us into the south of Sardinia. I must admit I had to go and look it up as I was not sure where it was exactly.
Sardinia proved to be unique with its many languages and proud independent people who were always eager to tell you about the island if you asked.
It has outstanding scenery and amazing festivals and we have been back every year since that first visit in 1972.
You have four sons and eight grandchildren – how do you manage your writing around your large family?
I first began writing when the boys were at school during the day and my husband had moved his office away from home; I had a lot of time to myself.
We moved quite a bit in the following years and the manuscript was packed away with all the other books one collects over the years.
When I retired, my husband suggested that I find the book and have another look at it, and I set about rewriting it.
What about the island makes it the place for a romantic setting?
Sardinia is an extremely romantic island. Its beautiful beaches and wild mountains are enough to stir the imagination of even the least romantic soul.
Tell us about your writing background.
I have a limited writing background. I am dyslexic, but with the arrival of a computer and spellcheck, life is much easier – although I still write the first two drafts of a manuscript in longhand.
I wrote a book about my father in conjunction with someone who knew him and his business.
I have written a book of poems about Sardinia, and had a few letters published in the local and national papers. However, this is my first novel.
Why did you decide to set the book in 1969?
I set the book in 1969 because communication with the island was almost impossible at that time. Phone calls had to be booked, taking hours if not days. It was relatively unknown, as tourism had not taken off on the island, which was ideal for the book.
Tell us about the development of the characters throughout the book.
Characters are funny things. When you start writing, they are in your head and you think you know them; but when they go on the page, they start to take on a life of their own. By the time I reach the end of the two longhand drafts and know how the book ends, I find the characters wouldn't do things I thought they would, or do something surprising. The ideas in your head finally become characters alive on the page.
What are your favourite reads?
My favourite reads are Jeffery Archer – he is such a wonderful storyteller – Lesley Pearce and of course Daphne du Maurier.
I tend not to read at home as I always have my head either in my book or am busy researching something. Mondays is washday in my house and I listen to an audiobook which I love; being read to is just magic and so I leave reading to the beach.
What is next for you?
I am putting together a story set in Sardinia in 1855, around the time of the Risorgimento, which is about two families. It is a story of revenge, vendetta and honour, but of course, most of all love.
Read more: http://www.femalefirst.co.uk/books/the-whispering-wind-292527.html#ixzz47g8WfSNA
Newmarket News
24 May 2013
Press Release
1 April 2013